About
Editors: Eiléan Ní Chuilleanáin, with assistance from Léan Ní Chuilleanáin and Natasha Cuddington
Administrator: Áinín Ní Bhroin

Cyphers was founded in 1975. Leland Bardwell,  Eiléan Ní Chuilleanáin and Macdara Woods had been waiting for the return of Pearse Hutchinson from Leeds University, where he had been Gregory Fellow for three years. Before he left, all four had been concerned in running a weekly poetry reading in a pub, Sinnotts of South King Street. Exhaustion, the financial crisis of the 1970s with the consequent rise in the price of drink, and severe competition from the noisy cash register in the pub, had put an end to that venture.
Other Irish magazines had recently ceased publication, and the time seemed right to start a new one. We decided we would pay contributors, publish poems from all the countries where we had contacts, and try to keep the price down. The Arts Council gave us 50% of what we needed for the first two issues (the balance made up by contributions from John Buckley of Poughkeepsie, Benedict Ryan of Mayo, and Katherine Kavanagh of Dublin who also taught one of us book-keeping). From Issue 3 onwards the Arts Council/An Chomhairle Ealaíon has enabled us to keep going.  The forthcoming issue is No. 89.
About The Editors:
LELAND BARDWELL was born in India, grew up in Leixlip, Co Kildare and was educated in Dublin and London. As a fiction writer she published five novels, the most recent being Mother to a Stranger (2002), as well as a volume of short stories, Different Kinds of Love (1986). In 2006 the Dedalus Press published her latest collection of poems, The Noise of Masonry Settling. Leland Bardwell's poetry is witty, full of sharp, intimate honesty, and of truth and surprises. Her autobiography, A Restless Life, was published in 2008 by Liberties Press.  She co-edited Cyphers until 2012.  She died aged 94 in 2016.
Born in Glasgow, raised in Dublin, PEARSE HUTCHINSON was a writer and translator in both English and Irish who began publishing in 1945. His The Soul That Kissed the Body (Selected Poems in Irish with translations into English, 1990), Collected Poems (2002) and Done Into English (collected translations, 2003), show his humane imagination, his range and his knowledge of the literatures of Europe and Ireland. His last collection of poems, At Least for a While, appeared in 2008 from Gallery Press.  Pearse Hutchinson died in January 2012, aged 84. Listening to Bach, a posthumous volume, came out in 2013, again from Gallery.  A volume in Irish and a collection of translations will appear before long.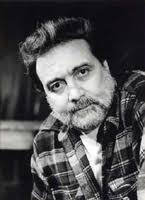 Born and educated in Dublin, MACDARA WOODS was widely travelled, in North America, Europe, Russia and North Africa; he lived in London for a time in the sixties and early seventies, and later read his poems from San Francisco to Moscow. He published eighteen books with New Writers' Press, Gallery Press and Dedalus Press, and others, the latest Music from the Big Tent (Dedalus, 2016) which shared the Michael Hartnett Prize in 2018, the year of his death. Macdara Woods's Collected Poems appeared from Dedalus in 2012. Last Poems, with a story and a memoir will be published later this year. Macdara Woods 1942-2018
EILÉAN NÍ CHUILLEANÁIN was born in Cork City in 1942. She has published ten books of poetry, most recently Selected Poems (2008) and The Mother House (2020). Her Collected Poems will appear later this year from Gallery Press. She is a Fellow and Associate Professor of English (emeritus) at Trinity College, Dublin. She has translated from Irish, Italian and Romanian, most recently Legend of the Walled-up Wife from the Romanian of Ileana Mãlãncioiu and Dánta Antonella Anedda . She has been accused of an 'eerie blend of the legendary and modern [which] sounds utterly natural'.